Terugkijken in de tijd
Geplaatst door Bert Carrein - Laatst gewijzigd op 27 augustus 2010
De afstanden tussen sterren en planeten zijn enorm groot. Astronomen of sterrenkundigen drukken die afstanden daarom vaak uit in de tijd die het licht nodig heeft om zo ver te reizen. Zoals je bijvoorbeeld spreekt van een autorit van twee uur, spreken astronomen van lichtreizen van 100 jaar. Omdat het licht van sterren in andere melkwegstelsels heel lang onderweg is, zien we die zoals ze lang geleden waren. Kijk je met een krachtige telescoop die de ruimte in, dan kijk je dus ook terug in de tijd.
De lichtsnelheid
Het licht legt ongeveer 300 000 kilometer per seconde af. Niets kan sneller reizen dan het licht. De Zon is 150 miljoen kilometer van ons verwijderd. Een ruimteschip doet er ongeveer een jaar over om van de Aarde bij de Zon te komen. Het licht doet er maar acht minuten over om diezelfde, enorm grote afstand af te leggen. In een jaar legt het licht 9 500 000 000 000 kilometer af. Deze afstand noemen we een lichtjaar.

Hoe verder een ster of melkwegstelsels van de Aarde af staat, hoe langer het duurt voor zijn licht bij ons is. De dichtstbijzijnde ster na de Zon is ruim vier lichtjaar van ons verwijderd. Een van de meest dichtstbijzijnde melkwegstelsels bevindt zich op een afstand van twee miljoen lichtjaar van de Melkweg. Het licht dat we nu van dit stelsel waarnemen, vertrok twee miljoen jaar geleden, toen er op Aarde helemaal nog geen mensen bestonden. We weten niet hoe dit stelsel er nu uitziet: alleen hoe het er twee miljoen jaar geleden uitzag.

Met grote telescopen zijn stelsels op miljarden lichtjaren afstand te zien. Als we ze bekijken, kijken we dus miljarden jaren terug — naar toen de melkwegstelsels zich vormden. Een telescoop is dan ook een soort tijdmachine.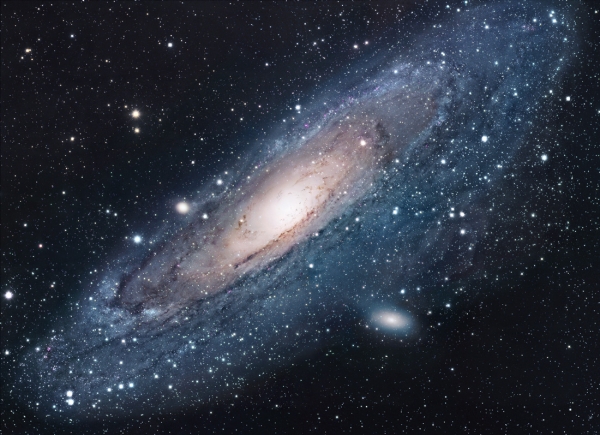 Dit is het sterrenstelsel Andromeda en is 2 miljoen lichtjaar van ons verwijderd. Omdat het licht dat we van dit stelsel waarnemen 2 miljoen jaar geleden vertrok, zien we het nu zoals het er toen uitzag.
Er hebben al 477 mensen een reactie achtergelaten