De fee van de Adelaarsnevel
Geplaatst op 10-06-2009 om 23u37 door Bert Carrein - 5206 keer gelezen
De sculpturen van interstellair stof in de Adelaarsnevel zijn aan het verdampen. Terwijl krachtig sterlicht deze koele kosmische bergen wegeet, kunnen we ons mythologische wezens voorstellen in de grillig gebeeldhouwde pilaren die overblijven.

Hieronder afgebeeld is één van meerdere tot de verbeelding sprekende pilaren van stof in de Adelaarsnevel, waarin de amerikaanse auteurs van APOD een gigantische buitenaardse fee of elf zien — de nederlandse vertaler eerder een draak of een cobra.

Deze fee/elf/draak/cobra is echter tien lichtjaar lang en spuugt straling die veel heter is dan alledaags vuur. De grotere Adelaarsnevel zelf, M 16, is in werkelijkheid een reusachtige verdampende schil van gas en stof waarbinnen zich een uitdijende holte bevindt met daarin een spectaculaire sterrenkraamkamer die op dit moment een open stercluster aan het vormen is.

De afbeelding onder, waarin elk van de kleuren wetenschappelijk betekenisvol is, werd gepresenteerd als onderdeel van de viering van de vijftiende verjaardag van de lancering van de Hubble Ruimtetelescoop.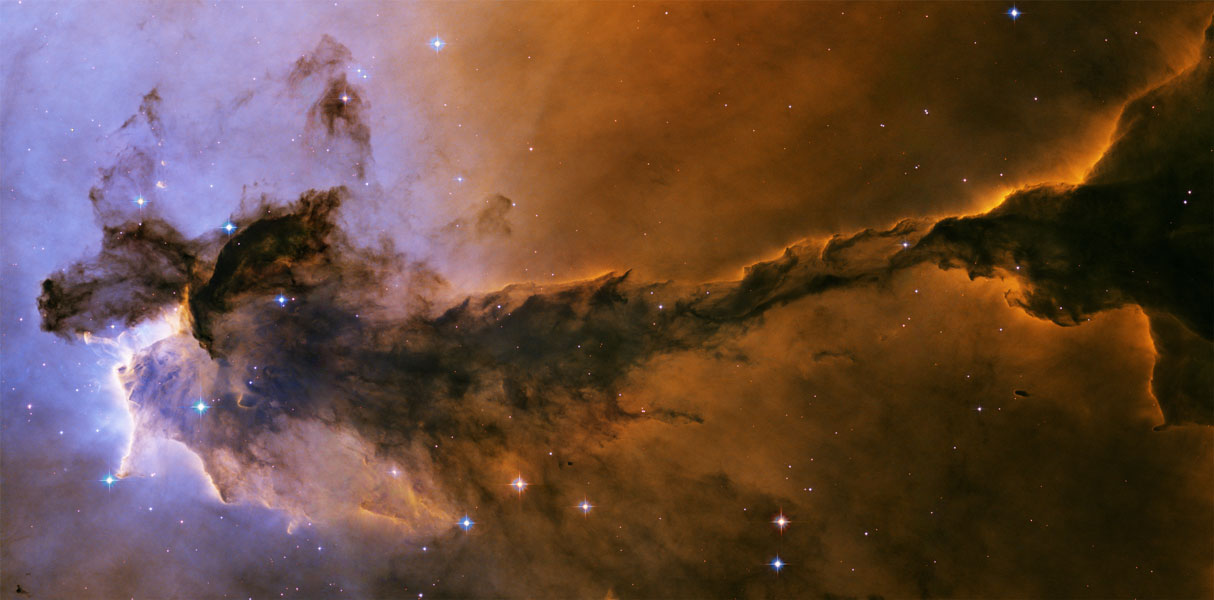 Credit: Het Hubble Heritage Team (STScI / AURA), ESA, NASA
Bron: http://www.apod.nl
Gerelateerde berichten
Lees ook: In het centrum van Cygnus
Lees ook: De Trifidnevel M20 in sterren en stof
Lees ook: M8: De Lagunenevel
Lees ook: De Grote Magelhaanse Wolk in gloeiend gas
Lees ook: Cassiopeia A lichtecho's in het infrarood
Lees ook: De Sluiernevel ontsluierd

Bekijk alle berichten uit deze categorie.
Er hebben al 10 mensen een reactie achtergelaten