Reizen naar Mars in 37 dagen?
Geplaatst op 29-09-2009 om 09u25 door Bert Carrein - 11983 keer gelezen
Een nieuw ontwikkelde raketmotor zou de reis van aarde naar Mars kunnen inkorten tot 39 dagen. De motor gebruikt een plasma van hete ionen om een raket voort te stuwen. NASA heeft aangekondigd de motor te zullen testen.

Mensen naar Mars sturen: het moet er ooit van komen. Er zijn nog een aantal grote hordes te nemen onderweg naar de eerste bemande Marsreis. Eén van de struikelblokken is de duur van de reis, die maar liefst zes maanden zou zijn met de huidige raketten. Dat is een lange tijd, vooral voor een groep mensen die al die tijd in een hele kleine capsule samen moet leven. Bovendien is tijdens zo'n lange reis het risico op zonnewind groot, en hoe een raket een stormvlaag van geladen deeltjes moet doorstaan is nog niet uitgevonden.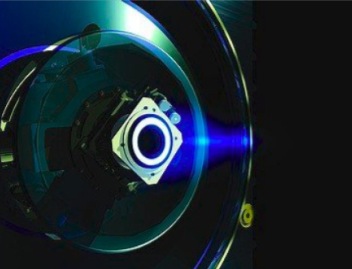 Foto: Maansatelliet SMART-1 gebruikte een ionenmotor voor zijn reis door de ruimte. Het plasma van ionen is te zien als een blauwe of paarse pluim achter het ruimtevoertuig.

De Ad Astra Rocket Company in de Verenigde Staten presenteerde onlangs een nieuw soort motor voor raketten, die de reistijd van aarde naar Mars drastisch kan verkorten. Zo moet het mogelijk worden om niet zes maanden, maar slechts 39 dagen onderweg te zijn. De nieuwe motor gebruikt voor de voortstuwing een plasma van ionen (geladen deeltjes), dat met behulp van sterke magnetische velden tot een hele hoge temperatuur wordt verhit. Het is geen nieuwe techniek, maar wel een verbetering van de bestaande ionenmotoren die het mogelijk zal maken om grote ruimteschepen ermee voort te stuwen.

Een raket heeft om twee redenen motoren nodig: om buiten de dampkring van de aarde te komen en om in de ruimte te vliegen en te sturen. Voor die twee functies heeft een motor heel verschillende eigenschappen nodig. Een motor die een raket lanceert moet vooral heel snel enorm veel energie kunnen produceren. De brandstof van zo'n raket moet heel snel verbranden zonder te exploderen. Om in de ruimte te sturen en te vliegen heb je veel minder energie nodig, want in het vacuüm heeft zelfs een piepklein zetje grote gevolgen. Het liefst wil je daarvoor een brandstof die heel lang meegaat en niet teveel plaats inneemt.

In de praktijk hebben raketten alleen verbrandingsmotoren. Daarmee kunnen ze uit de dampkring ontsnappen, en eenmaal in de ruimte doen ze niet zoveel meer. Af en toe sturen ze de raket een beetje bij om hem in de juiste baan te krijgen. Verder vertrouwen de raketbouwers op de leegte van het heelal: de snelheid waarmee de raket uit de dampkring ontsnapt blijft behouden. Met zo'n raket duurt de reis naar Mars ongeveer een half jaar. Maar als je een raket naast de verbrandingsmotor ook een motor voor onderweg meegeeft, kan je de snelheid in de ruimte verhogen. De ionenmotor van Ad Astra, VASIMR (Variable Specific Impulse Magnetoplasma Rocket), is juist daarvoor gebouwd.

Het grote verschil tussen VASIMR en de bestaande ionenmotoren is de kracht die VASIMR uitoefent. Die is veel groter dan die van andere ionenmotoren, en om dat te bereiken zijn wat trucs noodzakelijk. In de eerste fase worden argonatomen met behulp van radiogolven verhit totdat de elektronen eraf vallen. Dan heb je een plasma van argon-ionen, maar dat is nog niet genoeg voor een krachtige voortstuwingsmotor. Daarom worden de ionen in een sterk magnetisch veld nog verder verhit tot ongeveer een miljoen graden – vergelijkbaar met het binnenste van de zon. Het hete plasma wordt door magnetische velden uit de motor geworpen, en de derde wet van Newton (actie = - reactie) verzorgt dan de versnelling van de raket als tegenreactie.

Het huidige prototype van VASIMR bereikt een vermogen van 50 kilowatt, genoeg om een duizendtal gloeilampen van de laten branden. Dat lijkt weinig, maar in de lege ruimte is een kleine kracht al voldoende om een raket een flinke duw te geven. De ontwikkelaars hopen de komende jaren een motor met een vermogen van 200 kW te ontwikkelen, die sterk genoeg zou zijn om een lading van 2 ton voort te stuwen. Zo'n motor zou ook bruikbaar zijn voor bemande raketten, en zou de reis van aarde naar Mars kunnen inkorten tot 39 dagen. Een niet te onderschatten horde bij het ontwikkelen van zo'n motor is de energie die nodig is om het plasma te verhitten. Daarvoor zou een kleine kerncentrale aan boord van de raket noodzakelijk zijn. NASA heeft toegezegd om VASIMR in 2012 of 2013 te testen op het internationale ruimtestation ISS.
Bron: The Guidestar: http://www.astro-event-group.be (Lydwin van Rooyen)
Gerelateerde berichten
Lees ook: NASA stelt marsmissie uit
Lees ook: Phobos, de gedoemde maan van Mars
Lees ook: Week 1: Reizen naar Mars - een stukje geschiedenis
Lees ook: ESA wil missies naar Mars voortzetten
Lees ook: India wil naar Mars
Lees ook: Rusland wil apen naar Mars sturen

Bekijk alle berichten uit deze categorie.
Er hebben al 3 mensen een reactie achtergelaten