Bizarre bewegingen in dubbelster DI Hercules
Geplaatst op 07-11-2009 om 13u06 door Bert Carrein - 3785 keer gelezen
Een internationaal team onder leiding van Leidse sterrenkundigen heeft ontdekt waardoor de twee sterren van dubbelster DI Hercules zo bizar om elkaar heen bewegen. De twee sterren, die in 10 dagen om elkaar heen draaien, liggen zeer verrassend allebei op hun kant met hun draaiingsas bijna 90 graden uit het lood, wat niet voor mogelijk werd gehouden. Het verklaart de rare baanbewegingen die al 30 jaar geleden voor deze dubbelster waren waargenomen, en die zelfs voor Einstein's relativiteitstheorie ooit een probleem vormden.

De dubbelster, DI Herculis, staat op een afstand van 2000 lichtjaar in het sterrenbeeld Hercules. Al in het begin van de jaren tachtig van de vorige eeuw zijn er afwijkende baanbewegingen voor deze sterren gevonden, die ogenschijnlijk in strijd zijn met de relativiteitstheorie van Einstein. De relativiteitstheorie voorspelt dat de oriëntatie van de ster- en planeetbanen in de loop van de tijd verandert, een effect dat voor het eerst in 1915 door Albert Einstein werd verklaard voor de baan van Mercurius.

Dit betekende toen een grote doorbraak voor zijn relativiteitstheorie. Voor DI Herculis bleken de berekeningen voor dit effect niet te kloppen, waarna is geopperd dat Einstein's theorieën misschien niet gelden onder de extreme omstandigheden van deze dubbelster. De Leidse onderzoekers hebben nu ontdekt waardoor deze discrepantie wordt veroorzaakt, en hebben daarmee het 30 jaar oude raadsel opgelost.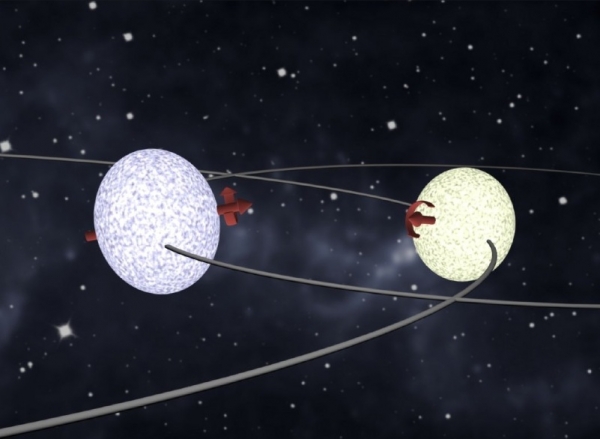 "De oorzaak is dat beide sterren zeer ver uit het lood staan, en zelf met hun draaingsas bijna onder een haakse hoek ten opzichte van het baanvlak staan", zegt Simon Albrecht, de Leidse oud-promovendus die sinds kort met een prestigieuze NWO Rubicon fellowship aan het Massachusetts Institute of Technology (MIT) werkt. "Door de snelle rotatie van de sterren zijn deze afgeplat in een richting vrijwel loodrecht op het baanvlak. Deze bizarre configuratie zorgt ervoor dat het relativistische effect wordt tegengewerkt", aldus Albrecht. "Alhoewel het oude raadsel hiermee de wereld is uitgeholpen, zitten we wel met een nieuw probleem", zegt medeonderzoeker Ignas Snellen.

"Hoe komt het dat deze sterren op deze vreemde manier rondtollen? We hebben een redelijk inzicht in het ontstaan van dubbelstersystemen, maar we verwachten dat de rotatieassen van beide sterren en de baan-as dezelfde richting opstaan." Het antwoord ligt mogelijk in een nog niet waargenomen derde ster in hetzelfde systeem, die de banen van de twee andere sterren heeft verstoord. Nieuw onderzoek zal dit moeten uitwijzen.
Bron: The Guidestar: http://www.astro-event-group.be
Gerelateerde berichten
Lees ook: Meer kans op botsingen in planetenstelsels met dubbelsterren
Lees ook: Dubbelster omgeven door nevel
Lees ook: Kepler vindt planetenstelsel met dubbelster
Lees ook: Dubbelster vertoont vreemd gedrag
Lees ook: Een middelsterk polair dubbelstersysteem
Lees ook: Wat zijn dubbelsterren?

Bekijk alle berichten uit deze categorie.
Er hebben al 3 mensen een reactie achtergelaten