Intergalactisch hoogtepunt
Geplaatst op 22-04-2010 om 08u53 door Bert Carrein - 9872 keer gelezen
Met de opkomst van het ruimtetoerisme lonkt voor avontuurlijke geesten een nieuwe attractie: seks zonder zwaartekracht. Het klinkt spannend, maar het zou wel eens heel onhandig kunnen zijn. NASA onderzocht het misschien stiekem al.

Seks op vreemde plaatsen spreekt tot de verbeelding. De Mile High Club geniet wereldwijde bekendheid, en je hoeft er maar een science fiction-roman op na te slaan om te zien dat we ook volop fantaseren over de grenzeloze mogelijkheden van intimiteit in de ruimte. Maar ook vanuit een meer wetenschappelijk oogpunt staat gewichtloze seks in de belangstelling. Als we namelijk zover komen dat mensen jarenlange ruimtereizen gaan maken om vreemde sterren en planeten te bezoeken, zou het vervelend zijn als blijkt dat die astronauten zich zonder zwaartekracht niet kunnen voortplanten. Reden genoeg voor NASA om erover te speculeren – en naar verluidt zelfs mee te experimenteren.

De meest voor de hand liggende bedreiging voor een romantisch onderonsje in een ruimtestation is de derde wet van Newton. Die zegt dat iedere actie een even grote en tegengestelde reactie tot gevolg heeft. Natuurlijk geldt die natuurwet ook op aarde, maar dankzij de zwaartekracht vliegen twee mensen die elkaar met vuur omhelzen daarna niet als stuiterballen van elkaar weg. In de ruimte ontbreekt die zwaartekracht en kun je dus met ieder duwtje een terugslag verwachten. Dat heeft bijvoorbeeld tot gevolg dat de missionaris-houding, op aarde één van de populairste standjes, in de ruimte vrijwel onmogelijk te bereiken zal zijn.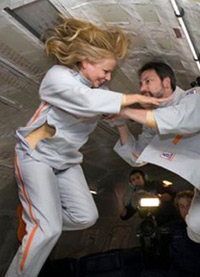 [Ook onze waterhuishouding gedraagt zich anders buiten ons vertrouwde zwaartekrachtsveld. Waar zweet in ons dagelijks leven aan onze huid blijft plakken en langzaam naar beneden rolt, zou het zich in de ruimte wel eens kunnen ophopen tot een mistgordijn van kleine druppeltjes. Niet zo fris natuurlijk. Bovendien zweet je er meer dan op aarde, want er is geen natuurlijke luchtstroming om lichaamswarmte af te voeren.

De wilde en avontuurlijke ruimtereiziger heeft nog een derde risico om rekening mee te houden: sommige mensen worden door de desoriëntatie van gewichtloosheid ruimteziek. Je kunt je vast voorstellen dat over elkaar heen buitelen in een acrobatische vrijpartij dat risico alleen maar vergroot. Tenslotte is er nog de kleine maar wellicht heikele kwestie van de licht verlaagde bloeddruk van astronauten. Deze kan ervoor zorgen dat de man niet zo goed voor de dag komt als op aarde…

Wie wel wat ziet in een romantisch onderonsje zonder zwaartekracht kan kortom niet zonder gedegen voorbereiding. Exotische outfits die de geliefden aan elkaar bevestigen, zoals sommige science fiction-schrijvers al bedachten, zouden kunnen helpen tegen Newton's enthousiaste terugslag. Koppels zouden er zelfs voor kunnen kiezen om zich aan een vast punt te bevestigen, om zo ook het risico op ruimteziekte te verkleinen. Goede ventilatie in de slaapkamer is essentieel om van het zweet af te komen. In een toekomstig ruimtehotel is de overlast van lichaamsvloeistoffen natuurlijk ook te verbloemen, bijvoorbeeld door de ruimte te vullen met druppeltjes lekker geurende olie.

Stelletjes die fantaseren over seks in de ruimte kunnen hun avontuur het beste gedegen voorbereiden. Een gechoreografeerde daad loopt dan wel niet over van spontaniteit, maar het lijkt de enige manier om zonder vervelende verrassingen te functioneren in de microzwaartekracht. Bovendien kan de exotische aantrekkingskracht van buitenaardse romantiek natuurlijk niet geheel getemperd worden door lastige bijzaken.

Het is makkelijk om te speculeren over de ins en outs van seks in de ruimte, maar de makkelijkste manier om erachter te komen wat er gebeurt is natuurlijk een experiment. Lange tijd ging het gerucht dat NASA zulke experimenten daadwerkelijk had uitgevoerd, met een (later vals gebleken) rapport als resultaat. Of er daadwerkelijk mensen zijn die het in de ruimte met elkaar hebben gedaan blijft voorlopig een raadsel. Wel is er tijdens een missie van ruimteveer Endeavour een pas getrouwd echtpaar de ruimte in geweest, stof tot nadenken natuurlijk.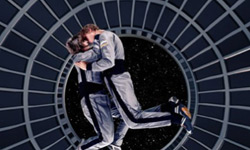 Foto: Science fiction schrijfster Vanna Bonta ontwierp de 2Suit, een tweepersoonspak dat met ritsen en klittenband een paar geliefden aan elkaar kan koppelen. Ze testte het pak zelf door haar echtgenoot tijdens een paraboolvlucht te kussen – en dat was al erg lastig, aldus de schrijfster.

Waar wél officieel onderzoek naar gedaan is, is het effect van microzwaartekracht op de ontwikkeling van een embryo. Onderzoekers zijn het erover eens dat het verwekken van een kind in de ruimte mogelijk zal zijn, maar tijdens de ontwikkeling kan de zwaartekracht het embryo parten gaan spelen. Rattenbaby's die in de ruimte groeiden, waren kleiner dan hun aardse soortgenoten en konden boven en beneden niet onderscheiden.

Ook hier zijn dus nog wat hordes te nemen voordat we de ruimte kunnen gaan koloniseren. Misschien is het voor mensen zelfs wel nódig dat er zwaartekracht is. Dan moeten we onze ruimteschepen inrichten met kunstmatige zwaartekracht, door ze bijvoorbeeld heel snel rond te laten draaien.

Voorlopig is zelfs Mars nog erg ver weg, en jarenlange ruimtereizen zijn toekomstmuziek. Maar met de ontwikkeling van commerciële ruimtevaart ontdekken we wellicht binnenkort verrassende nieuwe dingen over de biologische kant van gewichtloosheid. Er staan meer dan genoeg vrijwilligers klaar om het een keertje te proberen.
Bron: the Guidestar: http://www.astro-event-group.be (Kennislink)
Gerelateerde berichten
Lees ook: Grafietnaalden in de ruimte?
Lees ook: Bolvormige sterrenhopen zijn overlevers galactisch bloedbad
Lees ook: Krachtigste kosmische explosie ooit waargenomen
Lees ook: Nieuwe infraroodkaart van de sterrenhemel
Lees ook: Astronomenteam kijkt verder dan ooit terug in de tijd
Lees ook: Portret van het heelal in wording

Bekijk alle berichten uit deze categorie.
Er hebben al 50 mensen een reactie achtergelaten