Maanpolen bedekt met ijskraters
Geplaatst op 02-05-2010 om 11u41 door Bert Carrein - 1496 keer gelezen
Ja ja, dat er water op de maan is weten we nu wel. Maar dat het ook genoeg is om een maanbasis langdurig van te onderhouden is wel groot nieuws. Een NASA-instrument aan boord van de Indiase satelliet Chandrayaan-1 ontdekte het.

Chandrayaan-1 is een Indiaas wonderkindje. In eerste instantie werd de maansatelliet nog vooral gezien als een vehikel om India te lanceren als nieuwe speler in de internationale ruimtevaart. Toen de satelliet als eerste water op de maan vaststelde stond ook het wetenschappelijk nut voorgoed vast. Inmiddels heeft Chandrayaan-1 zijn tweede overwinning binnengesleept: het eerder ontdekte water blijkt in tientallen kraters te zitten op het poolgebied van de maan. Het is genoeg om mensen die een maanbasis zouden gaan bemannen van drinkwater te voorzien. Bovendien kan het met een beetje moeite in raketbrandstof of zelfs adembare zuurstof om worden gezet.

De ontdekking werd gedaan met een radarapparaat van NASA-makelij. Deze radar, de mini-SAR, was aan boord om de beschaduwde kraters op de maanpolen te onderzoeken. Het is een simpel apparaat van zo'n 10 kilo dat de polarisatie van weerkaatste radio-golven analyseert. Mini-SAR zendt linksom gepolariseerde golven uit. Normaal maanoppervlak kaatst die golven terug met een omkering van de polarisatie, maar sommige stoffen zorgen voor een ander signaal. IJs bijvoorbeeld, maar ook jonge en ruwe oppervlakken die nog doorzichtig zijn voor radiostraling. Mini-SAR zocht punten op die zijn straling vreemd weerkaatsen. Daar-na werden die punten opgezocht op een gedetailleerde foto van het oppervlakte van de maan. Het bleek te gaan over kraters waarvan het binnenste de radiogolven vreemd reflecteerde, terwijl de randen zich als gewoon maanoppervlak gedragen. Daarom kan het niet om piepjonge kraters gaan, en heeft Chandrayaan-1 daadwerkelijk ijs gevonden.

Het goede nieuws komt kort na de beslissing van de Amerikaanse regering om de geplande bemande maanvluchten te laten vervallen. Waarschijnlijk zal het nog lang duren totdat mensen gebruik kunnen maken van de naar schatting 600 miljoen ton ijs die op de polen van de maan in donkere kraters zit. Maar voor toekomstige maanmissies is er in ieder geval een obstakel minder: eten moet je zelf meenemen, maar voor drinken wordt gezorgd.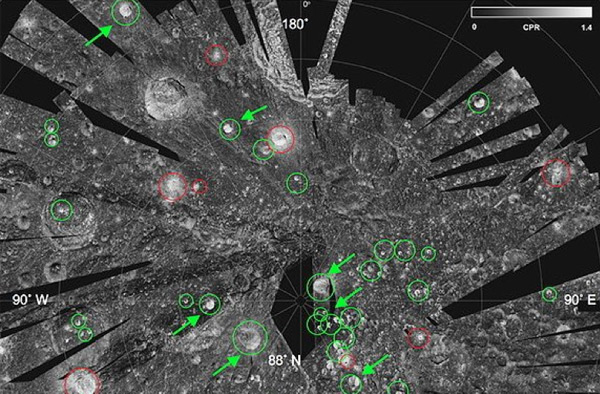 Op deze foto zijn de kraters te zien waarin Mini-SAR een afwijkende terugkaat-sing van radiogolven detecteerde. De rood-omcirkelde kraters blijken erg jong te zijn, en bevatten dus waarschijnlijk geen ijs. De groen-omcirkelde kraters zijn ouder en dus gevuld met waterijs.
Bron: The Guidestar: http://www.astro-event-group.be (Kennislink)
Gerelateerde berichten
Lees ook: De kleur van de maan
Lees ook: Binnenkort kan menselijk as naar de maan
Lees ook: China lanceert nog dit jaar tweede sonde naar de Maan
Lees ook: Mogelijk water op de Maan
Lees ook: Genoeg water op de Maan voor toekomstige basis
Lees ook: De Maan niet zo doods en rustig als ze lijkt?

Bekijk alle berichten uit deze categorie.
Er hebben al 8 mensen een reactie achtergelaten