Studente ontdekt superzwaart zwart gat voor eindwerk
Geplaatst op 20-05-2010 om 14u02 door Bert Carrein - 3614 keer gelezen
Een jonge sterrenkundige uit Nederland is er bij het maken van haar eindwerk in geslaagd om vast te leggen hoe een "superzwaar" zwart gat uit een sterrenstelsel gesleurd wordt.

Op de beelden van Marianne Heida is het maar een klein puntje, maar mogelijk heeft ze een enorm zwart gat ontdekt dat aan meer dan één miljoen kilometer per uur door de ruimte zweeft. Het zou een omvang hebben van meer dan een miljard keer onze zon.

Heida is studente aan de universiteit van Utrecht. Samen met experts van het Nederlandse ruimte-onderzoekscentrum (SRON) ging ze voor haar eindwerk op zoek naar bronnen van X-straling. Plots merkte ze een helder puntje op dat aan de rand van een sterrenstelsel lag. Het object ligt op meer dan een half miljard lichtjaren van hier.

Het zou de eerste keer zijn dat zo'n indrukwekkend fenomeen wordt vastgesteld. Ieder sterrenstelsel, ook onze Melkweg, zou over een superzwaar zwart gat beschikken. Ze ontstaan wanneer twee kleinere zwarte gaten botsen en in elkaar overgaan. Het nieuwe zwarte gat schiet dan aan hoge snelheid weg.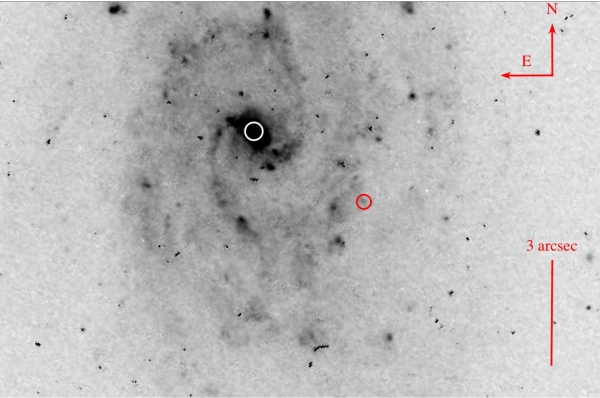 Bron: http://www.hln.be
Gerelateerde berichten
Lees ook: Zwarte gaten bestonden al heel vroeg
Lees ook: Zwartegatenjagers vestigen nieuw afstandsrecord
Lees ook: Magnetar zet theorie over zwarte gaten op haar kop
Lees ook: Onderzoek naar zwarte gaten met GEMS
Lees ook: Zwart gat regelt zijn eigen gewicht
Lees ook: De kip of het ei: eerst zwarte gaten of eerst sterrenstelsels?

Bekijk alle berichten uit deze categorie.
Er hebben al 11 mensen een reactie achtergelaten