Een kleine ruimtecamera is erin geslaagd om verbazend mooie foto's te nemen van het eerste zonnezeilschip dat op een interplanetaire reis gestuurd is door Japan. Het zonnezeilschip, Ikaros genaamd, nam enkele zelfportretten door een kleine camera te ontplooien die vrij in de ruimte kan bewegen. De foto's zijn genomen nu het zonnezeilschip zijn reis naar ondermeer Venus begonnen is en tonen een zilverkleurig zeil dat schittert in de duisternis van het heelal.

Ikaros – dat de afkorting is voor 'Interplanetary Kite-Craft Accelerated by Radiation Of the Sun' – werd eind Mei gelanceerd en ontplooide zijn zonnezeil begin juni van dit jaar. Het ruimtetuig werd door de Japanse ruimtevaartorganisatie Jaxa gebouwd en is het allereerste ruimteschip dat slechts aangedreven wordt door zonlicht.

De ingenieurs van Jaxa zullen er nu ook op toezien dat er daadwerkelijk stroom wordt opgewekt door de zonnecellen die op het Kite-zeil zijn aangebracht. Bij toekomstige missies hoopt men op die manier elektriciteit op te wekken die ionmotoren van energie kunnen voorzien.

Net als in het verhaal van Icarus, die zijn wassen vleugels bouwde om naar de zon te kunnen vliegen, is het de bedoeling om Ikaros naar de zon te laten reizen, waarbij het via een omweg langs Venus naar de achterzijde van de zon gestuurd zal worden. Op deze manier wil men onze dichtstbijzijnde ster verkennen alsook de technologie van het zonnezeilschip verbeteren. Een reis die ongetwijfeld nog vervolgd wordt.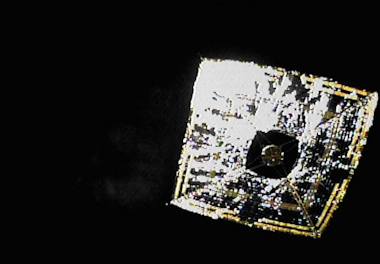 Een zonovergoten zeilvakantie, heb ik ook zin in
.
Of gewoon eens een keertje vliegeren op het strand