Gifrode kwal of massieve ster?
Geplaatst op 07-09-2010 om 11u45 door - 4281 keer gelezen
Sommigen zien er misschien een gifrode kwal in die zwemt in een woud van zeewier, terwijl anderen er een bloeddoorlopen oog in zien of de lippen van Marilyn Monroe. Maar het roodkleurige object dat je onderaan op de infraroodfoto van NASA's 'Wild Field Infrared Survey Explorer' (WISE) ziet, is in feite gewoon een gasbol vol stellaire ingewanden, die door een gigantische ster uitgeblazen werden.

Als je naar de foto kijkt zie je in het midden van de rode ring een wit sterpuntje pronken dat in werkelijkheid een van de meest massieve sterren is in ons melkwegstelsel. De ster behoort tot de Wolf-Rayetsterren, die genoemd zijn naar de astronomen die de eerste van deze sterren ontdekten. In vergelijking met deze ster is onze zon slechts een pluisje.

De ster kreeg de naam V385 Carinae en is 35 keer zwaarder dan onze zon. Met een diameter die liefst 18 maal onze zon bedraagt is deze ster dan ook een pak groter. Daarnaast is de ster veel warmer dan onze zon en straalt deze liefst een miljoen keer meer licht uit.

Reuzen zoals deze branden echter een stuk sneller op dan onze zon, waardoor ze na een paar miljoen jaar al het loodje leggen. Naarmate ze ouder worden stoten ze meer en meer zwaardere atomen af die in de sterren zitten te koken, atomen zoals zuurstof die nodig zijn voor het leven zoals wij het kennen.

Het materiaal wordt uitgeblazen in wolken zoals je die ziet oplichten op de foto. In dit geval verscheen de rode bolvorm slechts prominent op de langste van vier infrarode golflengten die gedetecteerd zijn door WISE. Astronomen vermoeden dat dit infraroodlicht afkomstig is van zuurstofatomen, die enkele van hun elektronen kwijtgeraakt zijn door de ultraviolette straling van de ster. Op het moment dat de elektronen zich terug bij de zuurstofatomen voegen, wordt er licht geproduceerd dat door WISE gedetecteerd wordt via zijn 22-micron infrarooddetector. Het proces kun je vergelijken met wat er in een tl-lamp gebeurt.

Het infraroodlicht dat door WISE gedetecteerd wordt op 22 micron is groen van kleur, terwijl 3.4 en 3.6 micron blauw van kleur is. En het groene zeewierachtige materiaal op de foto is in feite warm stof, terwijl de blauwe punten op de foto sterren zijn die in onze melkweg staan.

De foto is een mozaïek van 300 overlappende frames die genomen zijn op een moment dat WISE de gehele hemel onderzoekt. Een behoorlijk intensief onderzoek dus, waarbij er ongetwijfeld nog fascinerende creaturen zullen opduiken die zwemmen in de diepte van onze kosmische oceaan.

Tenslotte nog even vermelden dat V385 Carinae zich in het sterrenbeeld Carina bevindt en op een afstand van zo'n 16000 lichtjaar van de Aarde staat.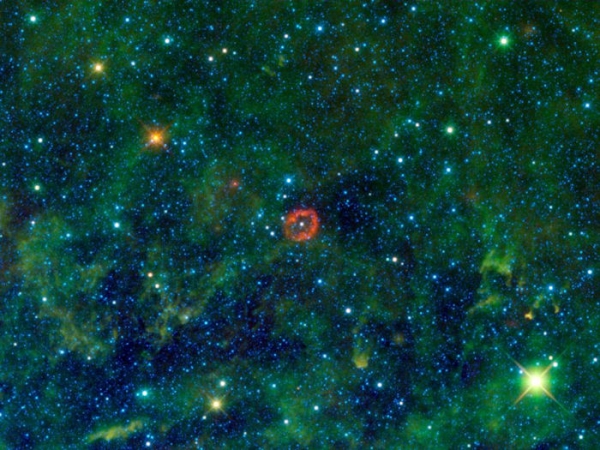 Bron: www.nasa.gov
Gerelateerde berichten
Lees ook: Open stercluster M 7 in Schorpioen
Lees ook: Nauwkeurigheid stercatalogus verdubbeld
Lees ook: De drie poolsterren
Lees ook: De Poolster komt terug tot leven
Lees ook: Superoude ster ontdekt
Lees ook: V838 Mon: Lichtecho update

Bekijk alle berichten uit deze categorie.
Er heeft al 1 iemand een reactie achtergelaten