Wat 'verorbert' waterstof op Saturnusmaan Titan?
Geplaatst op 17-07-2010 om 20u00 door Bert Carrein - 2942 keer gelezen
Iets op de grote Saturnusmaan Titan 'eet' moleculen waterstof en acetyleen. Hoewel niet­ biologische reacties de meest waarschijnlijke oorzaak zijn, achten sommige onderzoekers het mogelijk dat er een exotische vorm van leven is op deze verre ijswereld. Het verdwijnen van de moleculen is vastgesteld met instrumenten van de ruimtesonde Cassini, die regelmatig in de buurt van Titan komt.

Het proces is in overeenstemming met wat er zou gebeuren als er organismen actief zijn die waterstof en acetyleen opnemen. Deze organismen zouden zich kunnen bevinden in de grote meren van methaan en ethaan – de enige stoffen die onder de ijskoude omstandigheden op Titan vloeibaar blijven. De afwezigheid van acetyleen op het oppervlak van de Saturnusmaan kan echter ook op andere manieren worden verklaard.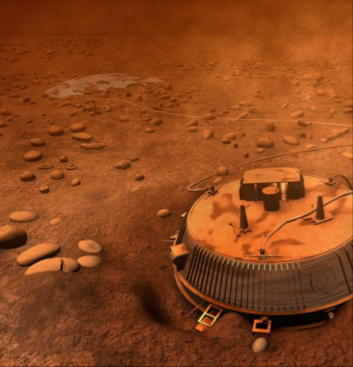 Zo zou het onder invloed van zonlicht of kosmische straling in andere organische moleculen kunnen veranderen. Vooralsnog wordt de biologische verklaring dan ook beschouwd als een laatste uitweg, voor het geval alle 'normale' verklaringen voor het verdwijnen van de moleculen tekort blijken te schieten.

Foto links: Huygens is de naam van een ruimtesonde van de ESA. Deze ruimtesonde werd gelanceerd op 15 oktober 1997. Zijn einddoel was Titan, de grootste maan van Saturnus. De ruimtesonde werd vernoemd naar de ontdekker van Titan, de Nederlandse astronoom Christiaan Huygens. Hij ont­dekte de maan in 1655. De ruimtesonde zat vast aan de Amerikaanse ruimtesonde Cassini­Huygens, die in juli 2004 in een baan rond Saturnus is gekomen en daar onderzoek doet. Cassini­ Huygens is de grootste inter­ planetaire ruimtesonde die ooit gebouwd is (2004). De combinatie Cassini-Huygens weegt 5,6 ton. De Huygenssonde heeft een diameter van 2,7 meter. Een schild beschermde de kwetsbare sonde tegen extreme temperaturen die optraden bij het afdalen in de atmosfeer van Titan.
Bron: The Guidestar: http://www.astro-event-group.be (NU)
Gerelateerde berichten
Lees ook: In het zonnestelsel lijkt Titan het meest op de Aarde
Lees ook: Ijsvulkanen op Saturnusmaan Titan?
Lees ook: Had de Aarde een Titan-achtig verleden?
Lees ook: Mogelijk ondergrondse oceaan onder ijskorst Titan
Lees ook: Zee van vloeistof op Saturnusmaan Titan
Lees ook: Titan reageert traag op seizoenswisseling

Bekijk alle berichten uit deze categorie.
Er hebben al 7 mensen een reactie achtergelaten