Meteorenregen Perseïden 2010 extra spectaculair
Geplaatst op 31-07-2010 om 10u49 door Bert Carrein - 20640 keer gelezen
De vallende sterrenregen van de Perseïden (ook wel nog de 'Tranen van Laurentius genoemd), die in de nacht van 12 op 13 augustus zijn maximum bereikt, zal spectaculairder zijn dan anders. Bij heldere hemel zouden tussen elf uur 's avonds en vijf uur 's nachts tot honderd meteoren — of ook wel in de volksmond 'vallende sterren' genoemd — te zien zijn per uur. Dit jaar zijn de omstandigheden zeer gunstig aangezien het op 10 augustus nieuwe maan is, en de dagen erna de maan al vroeg ondergaat.

Elk jaar in augustus doorkruist de Aarde de baan van de komeet Swift-Tuttle. Op de baan van deze komeet bevindt zich heel wat achtergelaten gruis en stof. Eenmaal de Aarde deze baan kruist, komt dit stof en gruis met hoge snelheid in de atmosfeer van onze planeet terecht.

Door de hoge wrijvingskrachten in de atmosfeer wordt het stofdeeltje uiteengerukt tot losse moleculen en 'verdampt' het als het ware volledig. De omringende luchtlaag begint te ioniseren door deze wrijvingskrachten, en de uitgestoten energie wordt waargenomen in de vorm van zichtbaar licht. Dit verschijnsel wordt een vallende ster of meteoor genoemd.

Een deeltje ter grootte van een erwt geeft al een bijzonder heldere lichtstreep. Een zeer helder lichtspoor (helderder dan de planeet Venus) wordt ook wel een vuurbol of bolide genoemd.

De Perseïdenactiviteit stijgt geleidelijk van enkele exemplaren per nacht eind juli, tot zelfs honderd per uur rond het maximum in de ochtend van 13 augustus. De radiant (het punt waaruit de meteoren lijken te komen) ligt nabij het sterrenbeeld Perseus.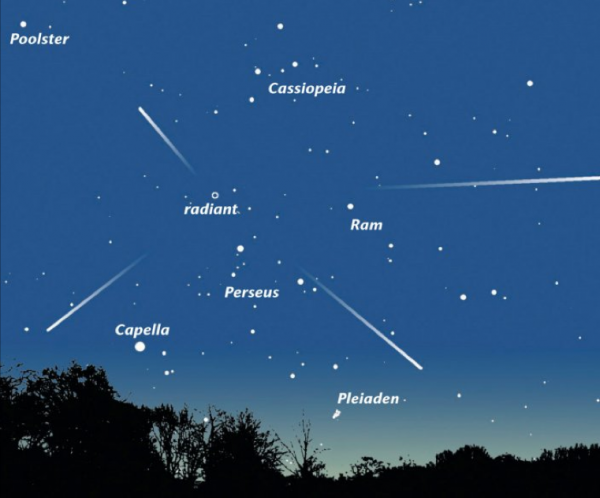 Bron: Het Laatste Nieuws
Gerelateerde berichten
Lees ook: Vallende sterren door komeet Phaeton
Lees ook: De Virginiden meteorenzwerm
Lees ook: Kleine meteorenzwerm
Lees ook: NASA: "Meteorenstorm kan Hubble en ISS beschadigen"
Lees ook: Zeer spectaculaire meteoor waargenomen
Lees ook: Vuurbollen Tauriden

Bekijk alle berichten uit deze categorie.
Er hebben al 12 mensen een reactie achtergelaten