Aardachtige exoplaneet gevonden in 'Leefbare Zone'
Geplaatst op 02-10-2010 om 13u55 door Bert Carrein - 6414 keer gelezen
De kans dat toekomstige generaties, zoals opperastronoom Stephen Hawking het aanraadt, de sterren zullen koloniseren is weer wat groter geworden. Wetenschappers hebben namelijk een planeet ontdekt, die omschreven wordt als "de meest op de Aarde gelijkende tot nog toe". Het gaat om een rotsachtige wereld die drie keer de omvang van die van ons heeft. De ster waarrond de planeet cirkelt ligt op 20 lichtjaren van ons. De 'Nieuwe Aarde'? "100% kans op leven", beweert alvast dr. Steven Vogt.

De planeet bevindt zich in de zogenaamde 'Goldilocks zone' van de kleine rode ster, Gliese 581 genaamd. Dat is het gebied in de ruimte waar de omstandigheden niet te warm en niet te koud zijn voor stromend water dat oceanen, meren en rivieren kan vormen. De planeet heeft ook een atmosfeer en een zwaartekracht, sterk gelijkend op die van de Aarde. Dat betekent dat de mens er rechtop zou kunnen lopen op de bodem én dat er leven mogelijk is.

De ontdekking komt drie jaar nadat atronomen een gelijkaardige maar iets minder bewoonbare planeet rond dezelfde ster in de Libra-constellatie hadden ontdekt. Die werd toen omschreven als liggende "in onze achtertuin" binnen het melkwegstelsel. Wetenschappers beweren dat de vondsten aanduiden dat het wemelt van de werelden zoals die van ons in het universum. "Als ze zeldzaam zouden zijn, dan hadden we er nooit zo snel en zo dichtbij een gevonden", zegt Dr. Steven Vogt van de University of California in Santa Cruz.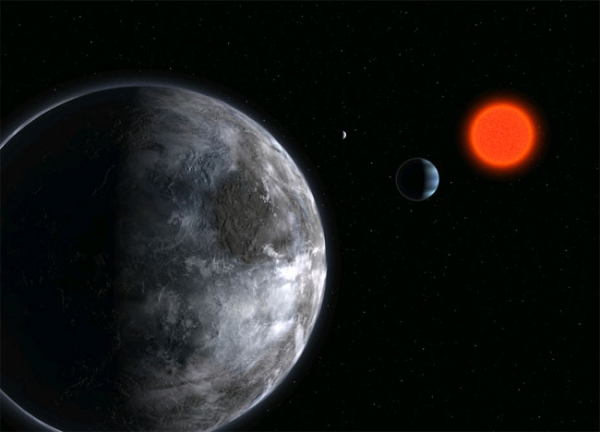 "Het aantal systemen met mogelijk bewoonbare planeten ligt ergens rond de tien of twintig procent. Dat moet je vermenigvuldigen met de honderden miljarden sterren in het melkwegstelsel. Dan krijg je een enorm getal. Er zouden weleens tientallen miljarden van deze systemen in onze melkweg kunnen bestaan." Volgens de astronoom is er honderd procent kans op leven op de net ontdekte planeet. "Daar twijfel ik haast niet aan."

En is de planeet ook bereikbaar? Ruimteschepen die ongeveer aan de lichtsnelheid reizen, zouden er twintig jaar over doen om er te geraken. Als een raket ooit één tiende van de lichtsnelheid haalt, dan zou de reis dus 200 jaar duren.

De planeet kreeg de naam Gliese(581)g en ligt op een afstand van 190.000.000.000.000 kilometer van ons. Het licht afkomstig van de ster doet er twintig jaar over om de Aarde te bereiken.

De planeet draait in 37 dagen rond haar zon, wat betekent dat de seizoenen er amper een paar dagen duren. Een kant van de planeet kijkt constant naar de zon en baadt dus in eeuwig daglicht; de andere kant is eeuwig duister. Toekomstige kolonialen maken het beste kans op overleven in de 'grijze zone', de band tussen duister en licht die de planeet omcirkelt.

In totaal werden er zes planeten rond Gliese 581 ontdekt, waarvan de meeste gevonden werden in een ander systeem dan ons zonnestelsel. De planeet die bewoonbaar zou zijn, kreeg de naam Gliese 581g.


Feiten over Gliese 581g
Diameter
1,2 tot 1,4 keer die van de Aarde
Massa
3,1 en 4,3 keer die van de Aarde
Gemiddelde oppervlaktetemperatuur
Tussen -4°C en +70°C
Afstand tot de Aarde
20 lichtjaren of 190.000.000.000.000 km
Reistijd tegen 1/10 lichtsnelheid
200 jaar
Is 1 van de 6 planeten rond Gliese 581
Duurtijd van 1 jaar
37 Aardse dagen
Zwaartekracht
Gelijkaardig of iets hoger dan op Aarde
Afstand tot haar zon
9,7 miljoen kilometer
Cirkelt rond rode dwergster, die 50 keer koeler is dan onze zon en 2/3 kleiner is
Compositie
Rotsachtig met stromend water en atmosfeer
Bron: http://www.hln.be
Gerelateerde berichten
Lees ook: Stofschijf rond ster vertoont organische moleculen
Lees ook: Ontstaan van leven
Lees ook: Gaf 'nieuwe Aarde' al twee jaar geleden teken van leven?
Lees ook: Aminozuren in deeltjes van komeet Wild 2
Lees ook: VN: "Geen ambassadeur voor buitenaardse wezens"
Lees ook: Micro-organismen in extreme omstandigheden

Bekijk alle berichten uit deze categorie.
Er hebben al 10 mensen een reactie achtergelaten