Hubble-telescoop spot bizar X-vormig object
Geplaatst op 15-10-2010 om 16u03 door Bert Carrein - 4396 keer gelezen
De Hubble-ruimtetelescoop heeft een bizar X-vormig object gevonden, dat astronomen nog nooit hadden gezien. Het blijkt te gaan om een botsing tussen twee kleine asteroïden, meldt de Amerikaanse ruimtevaartorganisatie NASA. Het is niet duidelijk waarom de sporen de vorm van een X hebben.

Het 122 meter grote object tussen Mars en Jupiter is waarschijnlijk het gevolg van een botsing van twee asteroïden, brokstukken die in een baan rond de zon draaien. Die botsing moet hebben plaatsgevonden in februari of maart 2009.

Een van de rotsblokken was 3 tot 5 meter in doorsnee, de andere iets groter. De botsing gebeurde met een snelheid van ongeveer 18.000 kilometer per uur. Volgens astronoom David Jewitt van de Universiteit van Californië moet de klap de kracht hebben gehad van een kleine atoombom.

Door de straling van de zon is een lange stofstaart ontstaan achter de 'X'. De observatie is belangrijk om te weten waar het stof in het zonnestelsel vandaan komt. We willen weten hoeveel van dat stof komt van botsende kleine planeten of van uitdovende planeten'', zei Jewitt.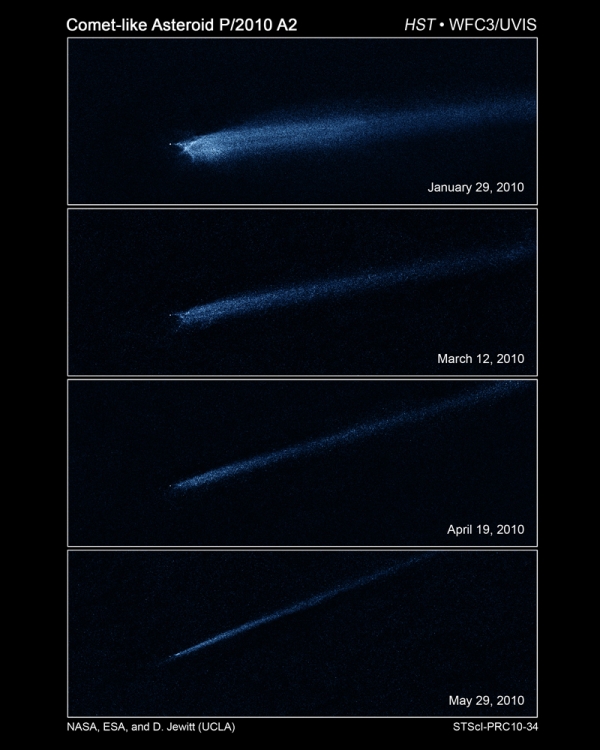 Bron: http://www.hln.be
Gerelateerde berichten
Lees ook: Japan wacht nakende terugkeer van asteroïdensonde nagelbijtend af
Lees ook: Kleine planetoïden kunnen binnenin hete ovens zijn
Lees ook: Vermiste planetoide terecht
Lees ook: Rosetta triomfeert
Lees ook: Duits ruimtevaartbureau wil asteroïden opsporen
Lees ook: Rosetta's blind date met Lutetia

Bekijk alle berichten uit deze categorie.
Er hebben al 12 mensen een reactie achtergelaten