Zwart gat verscheurt ster
Geplaatst op 23-06-2011 om 11u45 door Bert Carrein - 5378 keer gelezen
Astronomen denken dat ze het gewelddadige einde van een ster hebben geobserveerd. Doodsoorzaak: opgeslokt door een reusachtig zwart gat.
Hoe ziet het eruit wanneer een ster wordt opgeslokt door een zwart gat? Britse en Amerikaanse astronomen denken dat ze een dergelijke kosmische schranspartij geobserveerd hebben. Een uitbarsting van gammastraling die op 28 maart werd waargenomen door de Amerikaanse satelliet Swift, was volgens de sterrenkundigen veroorzaakt door de doodsstrijd van een ster die in stukken werd gescheurd door een reusachtig zwart gat in een ver weg gelegen melkwegstelsel. Twee internationale teams astronomen, een onder leiding van Andrew Levan van de universiteit van Warwick en een onder leiding van Joshua Bloom van de University of California in Berkeley, beschrijven hun bevindingen vandaag in Science Express.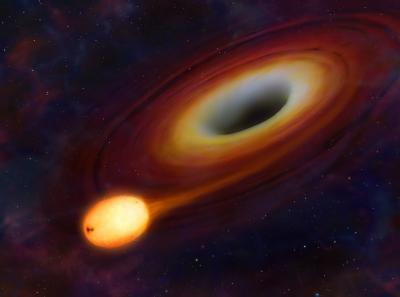 Het begon met een vrij routinematige waarneming van een flits van gammastraling, afkomstig uit het sterrenbeeld Draak, door de satelliet Swift. Dergelijke 'gamma-uitbarstingen', die wel vaker voorkomen, worden meestal veroorzaakt door explosies van sterren. Maar deze gamma-uitbarsting, met catalogusnummer Sw1644+57, zag er anders uit. Meestal duurt zo'n 'flits' hooguit enkele minuten, maar nu bleef de gammastraling maar komen, wekenlang, vergezeld van krachtige röntgenstraling en infraroodstraling. Alles wees erop dat de oorzaak van deze uitbarsting een andere was dan gewoonlijk, en nu denken de astronomen dat ze hebben uitgepuzzeld wat er gebeurd is.

Een belangrijke aanwijzing was de plaats van de uitbarsting: precies in het midden van een klein melkwegstelsel ver weg in het heelal, op zo'n 3,8 miljard lichtjaar van ons (een lichtjaar is een kleine tienduizend miljard kilometer).
Vreetpartij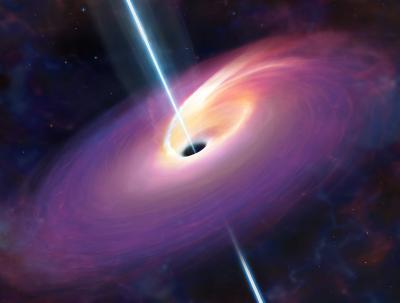 Het is bekend dat er zich in de kernen van vele melkwegstelsels gigantische zwarte gaten schuilhouden - ook onder meer in onze eigen Melkweg. Zo'n zwart gat heeft vaak een massa die vele miljoenen keren groter is dan de massa van onze zon en al haar planeten bij elkaar, maar die gigantische massa zit bij elkaar geperst in een volume dat naar verhouding vrij bescheiden is: kleiner dan ons zonnestelsel. Zó veel massa op zo weinig plaats, dat betekent dat de zwaartekracht in de onmiddellijke nabijheid immens sterk is. Alles wat te dichtbij komt, wordt in stukken gescheurd en loopt gevaar opgeslokt te worden. Eenmaal een bepaalde grens voorbij is het zelfs absoluut onmogelijk om nog te ontsnappen en val je onherroepelijk in het zwarte gat; zelfs licht ontsnapt dan niet meer - vandaar de naam zwart gat.

De zwarte gaten in de kernen van melkwegstelsels slokken regelmatig wat verloren materie uit hun buurt op, zoals wolken gas. Maar een hele ster ineens, dat is een vreetpartij van een heel andere omvang. Astronomen vermoedden al lang dat dergelijke ongelukken af en toe moesten gebeuren - ook in onze eigen Melkweg zijn er sterren die zich gevaarlijk dicht bij het centrale zwarte gat wagen - maar het was nog nooit geobserveerd.

Zwarte gaten zijn slordige eters. Een ster verdwijnt niet zomaar in één hap in de muil van het monster. Ze wordt eerst uit elkaar gesleurd, waarna de resten ervan in een soort helse draaikolk van hete gassen terechtkomen. In die draaikolk wordt al de materie extreem verhit terwijl ze steeds sneller rondjes draait en dichter en dichter bij het midden komt, waar het eigenlijke zwarte gat zit.

Een deel van de materie valt uiteindelijk echt in het zwarte gat, maar een ander deel geraakt nooit zo ver: ze wordt in twee straalstromen of 'jets' met grote kracht in twee tegengestelde richtingen weggeschoten. Die straalstromen zijn vreselijk geconcentreerde bundels materie en straling, die miljarden lichtjaren ver het heelal in schijnen.

Het is dankzij die straalstromen dat de satelliet Swift in maart de uitbarsting Sw1644+57 kon zien. Toevallig was een van de twee stromen op onze Melkweg gericht. 'We keken toevallig recht in de loop', zegt Andrew Levan.
Bron: http://www.standaard.be
Gerelateerde berichten
Lees ook: Kleinste zwart gat tot dusver geïdentificeerd
Lees ook: Botsing van drie zwarte gaten gesimuleerd
Lees ook: Stelsel met twee superzware zwarte gaten ontdekt
Lees ook: Astronomen ontdekken zwart gat in jong sterrenstelsel
Lees ook: De planeet zal niet verzwelgen op 10 september
Lees ook: Zwarte gaten verklaard door donkerslokken?

Bekijk alle berichten uit deze categorie.
Er hebben al 11 mensen een reactie achtergelaten