De Amerikaans-Europese ruimtetelescoop Hubble heeft diep in de kosmos een gasnevel gefotografeerd die oplicht als een gigantisch kosmisch halssnoer.

Op de op 2 juli gemaakte foto is een blauwgroen gekleurde ring van waterstof en zuurstof te zien, waarin roodgekleurde stikstofwolken oplichten als de diamanten in een halssnoer. Die puntjes lichten op door de absorptie van ultraviolet licht van de centrale sterren. Het Space Telescope Institute in Baltimore (Maryland) gaf de foto vandaag vrij.

De planetaire nevel in het sterrenbeeld Pijl bevindt zich op 15.000 lichtjaar van ons, en kreeg toepasselijk de naam 'Halssnoernevel'. De nevel is ongeveer 10.000 jaar geleden ontstaan toen één van de sterren in een zeer nauwe dubbelster opzwol, waardoor de begeleider in de buitenste gaslagen van de ster terechtkwam.

Als gevolg van de wisselwerking tussen de twee sterren, die slechts een paar miljoen kilometer van elkaar zijn verwijderd, begon de opgezwollen ster steeds sneller te roteren, en werd er vooral in het evenaarvlak van de ster veel gas de ruimte in geblazen. Het kosmisch halssnoer heeft ondertussen een diameter van zowat 20 biljoen km.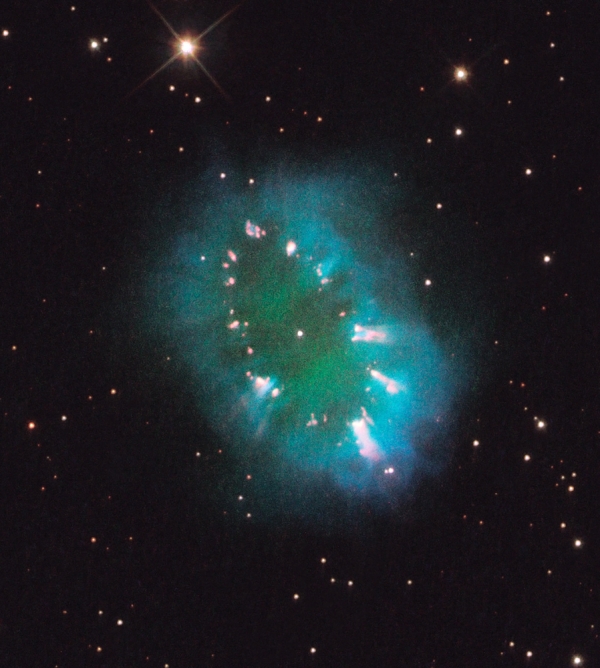 Andere formaten?
Don't you understand that this is the best time to get the <a href="http://bestfinance-blog.com">loan</a>, which can make your dreams come true.