Blauwe planeet ontdekt waar leven mogelijk is
Geplaatst op 06-12-2011 om 12u37 door Bert Carrein - 23712 keer gelezen
Het Amerikaanse ruimtevaartagentschap NASA heeft een planeet ontdekt die op de aarde lijkt en die op "levensvatbare" afstand rond haar ster draait. Het is de derde potentieel leefbare planeet die ruimtewetenschappers ontdekken.

De planeet, Kepler 22-b, ligt op ongeveer 600 lichtjaren afstand, is ongeveer 2,4 keer groter dan de aarde en draait in 290 dagen rond haar ster. De temperatuur zou er circa 22 graden Celsius bedragen. De astronomen weten echter nog niet of de planeet vooral bestaat uit steen, gas of vloeistof, zo meldt de Britse omroep BBC.

De bevestiging van het bestaan van de "zusterplaneet" betekent dat de NASA-astronomen de planeet minstens drie keer voorbij haar ster hebben zien passeren. Ze kunnen niet zeggen of er een bepaalde levensvorm aanwezig is op de planeet, alleen dat de nodige voorwaarden vervuld zijn opdat leven zich er zou kunnen ontwikkelen.

Kepler 22-b werd ontdekt door de Amerikaanse sonde Kepler. Die werd in maart 2009 gelanceerd en is ontworpen om planeten in de Melkweg te zoeken die op de aarde lijken. De sonde heeft momenteel 2.326 kandidaat-planeten gevonden, waarvan er 207 min of meer de omvang van de aarde hebben. "Deze ontdekkingen bewijzen dat er veel leven in het universum aanwezig is", zegt Alan Boss van Carnegie Institute.

In mei was het Franse Centre national de la recherche scientifique (CNRS) de eerste die een potentieel leefbare planeet aankondigde: een planeet die rond de dwergster Gliese 581 draait, op 20 lichtjaren van de aarde. Zwitserse astronomen bevestigden in augustus het bestaan van een andere dergelijke planeet, HD 85512b, op 36 lichtjaren afstand.

Wetenschappers houden de potentieel leefbare planeten bij in een index. Op dit ogenblik zijn al 47 planeten en manen gevonden die in het plaatje passen.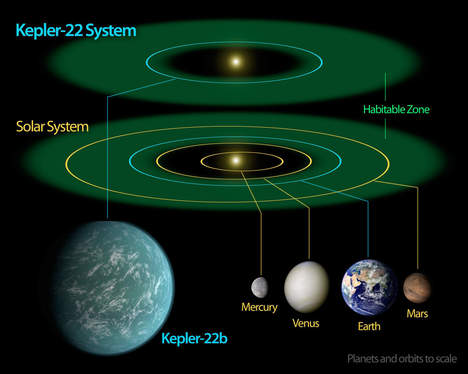 Bron: http://www.hln.be
Gerelateerde berichten
Lees ook: NASA geeft uitleg over nieuwe levensvorm in giftig meer
Lees ook: "Niet lang meer voor we buitenaards leven ontdekken"
Lees ook: Suiker in het heelal kan wijzen op buitenaards leven
Lees ook: "Leven mogelijk op 100 biljoen triljoen planeten"
Lees ook: Stofschijf rond ster vertoont organische moleculen
Lees ook: Aardachtige exoplaneet gevonden in 'Leefbare Zone'

Bekijk alle berichten uit deze categorie.
Er hebben al 17 mensen een reactie achtergelaten