LRO onthult recente geologische activiteit op de maan
Geplaatst op 21-02-2012 om 20u00 door Bert Carrein - 3963 keer gelezen
Op nieuwe beelden, vrijgegeven door NASA's LRO (Lunar Reconnaissance Orbiter) is te zien dat de korst van de maan wordt uitgerekt, waardoor valleien ontstaan in een paar gebieden op het maanoppervlak. Wetenschappers stellen dat minder dan 50 miljoen jaar geleden geologische activiteit plaatsvond op de maan. Dat wordt als recente activiteit beschouwd gezien de leeftijd van de maan: 4,5 miljard jaar.

Een team van onderzoekers hebben hoge-resolutie opnames van de LRO geanalyseerd waarop kleine, smalle geulen te zien waren. Die waren meestal veel langer dat dat ze breed zijn en geeft aan de korst van de maan op deze locaties uit elkaar wordt getrokken. Deze valleien, ook wel bekend onder de naam 'slenken'. De korst rekt uit, breekt in stukken waardoor de grond verzakt. Aan weerszijden van de slenk komt een deel van de korst omhoog - de zogenaamde 'horst'.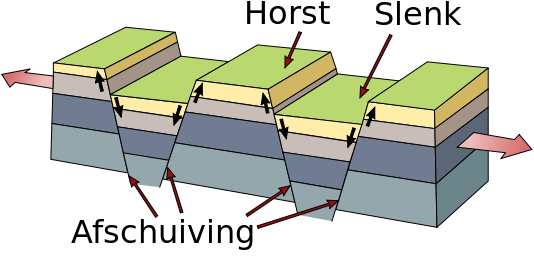 "We denken dat de maan zich in een krimpende toestand bevindt als gevolg van de afkoeling van de nog steeds warme kern", zegt Thomas Watters van het Center for Earth and Planetay Studies aan het Smithsonian's National Air and Space museum in Washington. "De slenken vertellen ons dat de krachten die zorgen voor het krimpen van de maan op sommige plaatsen overwonnen worden door de krachten die de maankorst breken. Dat wil zeggen dat de krachten die de maan doen krimpen niet zo groot zijn, want anders zouden de slenken nooit ontstaan zijn."



De zwakke samentrekking suggereert dat de maan, in tegenstelling tot de aardse planeten, niet helemaal 'gesmolten' was in het vroege stadium van zijn bestaan. In plaats daarvan ondersteunen bevindingen een alternatieve opvatting: alleen het buitenste deel van de maan was vloeibaar, een oceaan van vloeibaar gesteente.

Omdat de LRO missie vordert en we meer en meer het oppervlak te zien krijgen, hebben wetenschappers een beter beeld van hoe vaak deze slenken voorkomen en welke andere tektonische activiteit er in de buurt heeft plaatsgevonden. Met behulp van de slenken kunnen wetenschappers hun bevindingen op vlak van de spanningstoestand in de korst van de maan meer en meer verfijnen.




Dit is de grootste van de net ontdekte 'slenken' - valleien, ontstaan door tektonische activiteit - in hoog gelegen gebieden op de maan. De breedste slenk is zowat 500 meter breed en uit beelden van de LRO kan worden afgeleid dat ze bijna 20 meter diep zijn.
Bron: http://www.physorg.com/news/2012-02-lunar-reconnaissance-orbiter-reveals-geological.html
Gerelateerde berichten
Lees ook: Nu officieel: Er is water op de Maan gevonden!
Lees ook: Indiase Maansonde vindt minerale afzettingen
Lees ook: Duitsers willen naar de Maan
Lees ook: Simulatie van maanstof
Lees ook: Maanoppervlak reflecteert waterstofatomen
Lees ook: Geen Amerikaanse astronauten meer op de Maan?

Bekijk alle berichten uit deze categorie.
Er hebben al 8 mensen een reactie achtergelaten