Kepler ontdekt mogelijk levensvatbare planeten
Geplaatst op 19-04-2013 om 08u51 door Bert Carrein - 21112 keer gelezen
Met de ruimtetelescoop Kepler zijn twee planeten ontdekt waar leven mogelijk lijkt. De hemellichamen draaien met vijf andere planeten rond een ster op 1.200 lichtjaar afstand van de aarde. Dat meldt het onderzoeksteam onder leiding van de NASA in het vakblad Science.

De planeten -Kepler 62e en 62f- zijn ongeveer 1,5 keer zo groot als de aarde en de kans bestaat dat er water aanwezig is. De hemellichamen doen er 122 en 267 dagen over om rond hun ster te draaien.

Tot nu toe hebben astronomen 850 planeten buiten ons zonnestelsel ontdekt. Daarvan zijn er maar vier die op een afstand van hun ster draaien die er leven (zoals wij dat kennen) op mogelijk maakt. "Het is nog nooit gebeurd dat we twee planeten hebben ontdekt die zo vergelijkbaar zijn met de aarde", zegt astrofysicus Justin Crepp.

Volgens de wetenschappers zou één van de planeten een rotsachtig hemellichaam zijn met ijskappen op de polen, terwijl de andere warmer zou zijn. "Het is slechts een kwestie van tijd vooraleer we weten of er in ons melkwegstelsel een veelheid aan planeten zijn zoals de aarde of dat we uniek zijn", aldus Crepp.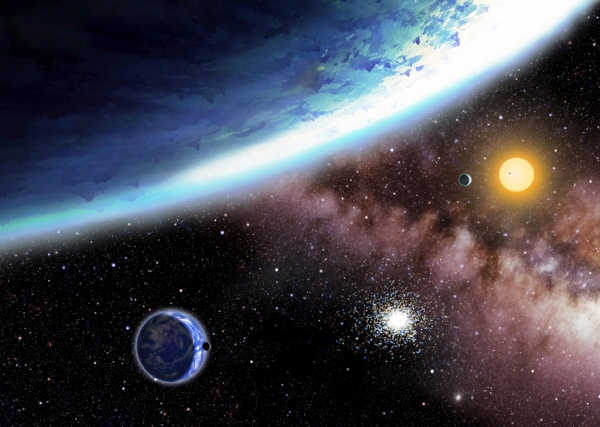 Bron: HLN
Gerelateerde berichten
Lees ook: Een wereld met twee zonnen
Lees ook: Miljarden planeten van omvang Aarde in de Melkweg
Lees ook: Planetenjager vindt maar liefst 32 nieuwe exoplaneten!
Lees ook: Weerkaatst licht van exoplaneet ontdekt
Lees ook: Kepler ontdekt 41 exoplaneten
Lees ook: Donkerste planeet gloeit als stukje houtskool

Bekijk alle berichten uit deze categorie.
Er hebben al 82 mensen een reactie achtergelaten