Andromeda is een balkspiraalstelsel
Geplaatst op 24-05-2006 om 17u27 door Bert Carrein - 5560 keer gelezen
Al jaren vermoeden astronomen dat M31 - het Andromedastelsel - een balkspiraalstelsel is. Spiraalstelsels met een centrale balk komen vrij veel voor. Ons eigen sterrenstelsel , de Melkweg, heeft ook een dergelijke vorm. Dit werd waargenomen door de Two Micron All-Sky Survey.

Eerder werd algemeen aangenomen dat het stelsel niet zo'n balk had. Grootste probleem was dat ons zicht op het centrum ervan niet zo optimaal was. We zien het namelijk min of meer langs de zijkant. Daardoor belemmert stof in het stelsel ons uitzicht op de kern. Hierdoor konden wetenschappers niet bepalen of het nu toch een balk had.

Toch is er een manier om dit probleem te omzeilen: infrarood. Wanneer we kijken met infrarood in plaats van met zichtbaar licht zien we een centraal deel dat vergelijkbaar is met het theoretische model. De waarnemingen komen zo goed overeen dat de conclusie overduidelijk is: M31 is een balkspiraalstelsel.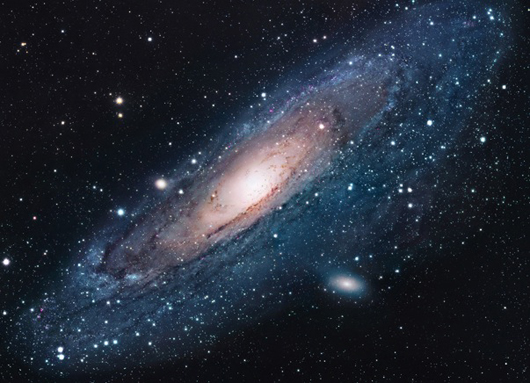 Bron: http://www.urania.be
Gerelateerde berichten
Lees ook: Sterrenstelsel steelt gas van een ander
Lees ook: Close-up van NGC 253
Lees ook: Melkwegstelsel M82 blaast een supergalactische wind
Lees ook: NGC 1531/2: Melkwegstelsels in interactie
Lees ook: NGC 253: Een stoffig eilanduniversum
Lees ook: Melkwegstelsels in de verte

Bekijk alle berichten uit deze categorie.
Er hebben al 21 mensen een reactie achtergelaten